Patrick Aranda
Patrick Aranda is one of ragtime's most entertaining and talented performers. He plays a mean piano, sings, performs on trombone, tuba, and who knows what all (not necessarily all at once), and has a huge ragtime repertoire, including the most difficult and flashy novelty-style rags, plus classic rags, Harlem stride compositions, and favorite tunes from the Tin Pan Alley era.

Fans can currently see him perform at Disneyland as main Street's Ragtime pianist on Fridays and Saturdays. He also plays piano with various traditional jazz groups including Auntie Skinners Lucky Winners Jazz Band, and The Burgundy Street Jazz Band.

He is a Music Professor at Chaffey College in Rancho Cucamonga, where he directs the Jazz Band and Concert Band, as well as teaching classes ranging from theory and musicianship to History of Jazz. He also stays busy directing at least three musicals a year.

He made his Sutter Creek Ragtime Festival debut in 2002 and has been invited back by popular demand ever since. In 2003 he was among the modern ragtime composers we honored at our Festival, having created several of his own ragtime pieces, including one inspired by his Sutter Creek debut. Patrick is a favorite headliner at Orange County's annual RagFest and The Ragtime Corner of the Sacramento Jazz Jubilee. He has also been featured at the West Coast Ragtime Festival in Sacramento.

In his spare time, Patrick plays trombone in his brother's Salsa band; performs with several Southern California Dixieland groups, and, has recorded his own solo CD.
Jack and Chris Bradshaw
Jack and Chris Bradshaw, ragtime piano duo artists from Gilroy, Calif., are bringing their unique sound to Sutter Creek again this year. Jack's four-hand arrangements of popular rags, cakewalks, marches and novelty numbers are played with a sparkle reminiscent of old-time piano rolls. This lively pair has also appeared at the West Coast, Scott Joplin, Blind Boone, RagFest, Shaniko, Cascade, and the Fresno Flats Ragtime Festivals, The Ragtime Corners of the Sacramento Jazz Jubilee, and Old Town Music Hall in El Segundo. The rollicking road to ragtime thus far has taken them to 11 states and Canada.

Jack also plays classic and new ragtime solos to round out their programs. Jack and Chris each hold advanced degrees in music and perform regularly at Sacramento Ragtime Society and South Valley Music Makers meetings.
Tom Brier
Tom Brier, affectionately dubbed "Hot Rod Tommy," used to be California's greatest ragtime secret until the summer of 2001, when he made his debut to tremendous applause (and much jaw-dropping) at the Scott Joplin Festival in Sedalia, MO and the Blind Boone Festival in Columbia, MO. This composing genius and pianist extraordinaire hails from Oakdale, a Central Valley farming community south of Sacramento. He currently lives in Sacramento where he works as a programmer/analyst for the County of Sacramento. Tom caught the ragtime bug when his parents purchased a Schubert mechanical player. He was only 4, but when he started picking out tunes he heard on the piano rolls, his parents immediately found him a piano teacher. Soon Tom was notating his own music and by age 11, he had composed nearly a dozen rags. Today he has well over 160 ragtime compositions to his name (more than 200 if collaborations with other composers are counted), all remarkably original but clearly demonstrating his depth of understanding of early ragtime subtleties. In 1985, at age 14, Brier made his first appearance at the Sacramento Ragtime Society meeting, blowing everyone away with his signature rapid-fire left hand runs. Since that time, Brier has been a mainstay at the Ragtime Corner of the Sacramento Jazz Jubilee, the West Coast Ragtime Festival, and recently our Mother Lode Ragtime Society gatherings. He has recorded six CDs, has a vast ragtime sheet music collection, is noted for performing and popularizing extremely rare but wonderful rags, and for inspiring pianists to attempt to keep up with him.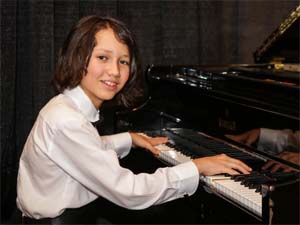 Diego Bustamante
Diego Bustamante, age 13, has been playing piano for six and a half years. He lives in Paradise, Calif., where he studies with Dr. Robert Bowman. Diego has just finished 7th grade at The Progressive Schoolhouse in Chico. Like so many others before him, Diego's interest in ragtime began when he heard The Entertainer by Scott Joplin. His interests outside of ragtime include birding and skiing.

Diego will be participating in this year's "Future of Ragtime" concert with Will Perkins, Tim Rotolo, Vincent Johnson, and John Reed-Torres.
The Crown Syncopators
Featuring the virtuoso piano stylings of Frederick Hodges, with accompaniment by Marty Eggers on tuba and Virginia Tichenor on drums, The Crown Syncopators were formed to perform at San Francisco's Pier 23, where each of its members also plays solo piano monthly. Their repertoire is almost exclusively ragtime.
Marty Eggers
Marty Eggers is well known on the West Coast as a top-notch ragtime pianist and bassist. Marty's music career began in Sacramento where as a teenager he helped found the Sacramento Ragtime Society in 1982. He has played with numerous San Francisco Bay Area jazz and ragtime groups, most notably John Gill's San Francisco JazzBand and the Black Diamond Jazz Band. His talent and versatility have led him into several varied and prestigious engagements, from recording with traditional jazz legend Bob Helm to touring Germany with Hal Smith's Rhythm Cats to playing in backup bands for both Leon Redbone and Butch Thompson. Marty, from Oakland, Calif., is also a skilled composer and arranger of ragtime and traditional jazz.

He also appears with the Tichenor Family Trio (Trebor Tichenor, Virginia Tichenor, and Marty) and performs as a soloist at least once a month on Tuesday evenings at Pier 23 in San Francisco and Wednesday evenings at the Straw Hat Pizza Parlor in Rancho Cordova, CA.
Terry Waldo describes Marty as having "an encyclopedic knowledge of the ragtime and early jazz repertoire."
Marty is married to ragtime pianist Virginia Tichenor (see below) and is a past president of the West Coast Ragtime Society.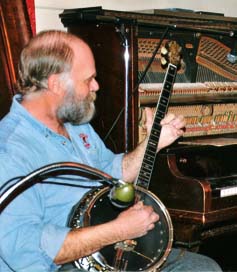 Gary Greenlund
Gary Greenlund is from Virginia City, Nev., where he often plays banjo at the Bucket of Blood Saloon, including sets with pianist Squeek Steele. He also is a member of the Sacramento Banjo Band.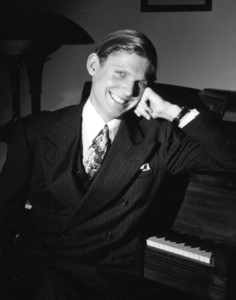 Frederick Hodges
Frederick Hodges, of Berkeley, CA was groomed for a career as a concert pianist but was happily lured away from his path after he found a stack of turn-of-the-century sheet music in his grandmother's piano bench. Repeated exposure to the rollicking ragtime rhythms of player pianos and 78 rpm phonograph records sealed his fate and he set out to master the ragtime playing styles that had captivated him.

While still an undergraduate at UC Berkeley, he was hired as pianist for the Royal Society Jazz Orchestra, for which he has played for 20 years. He also performs with the Peter Mintun Orchestra, with jazz ensembles, and as a soloist. He appears at least once a month on Tuesday evenings at Pier 23 in San Francisco and Wednesday evenings at the Straw Hat Pizza Parlor in Rancho Cordova, CA and he is a much applauded featured performer at the Sacramento Jazz Jubilee's Ragtime Corner and West Coast Ragtime Festival.
Vincent Johnson
Vincent Johnson, a ragtime composer, pianist, researcher, and enthusiast, was first attracted to ragtime music at age 12, after hearing his friends play Scott Joplin rags. He began learning "The Entertainer" and "Maple Leaf Rag" by watching and listening to the pieces being played by others. He began attending Rose Leaf Ragtime Club gatherings in order to learn more about this musical genre and listen to live performers play rags. Piano lessons soon followed, and soon he was learning pieces of varying ragtime styles, from classic ragtime to novelty piano.

In 2007, Vincent began to compose ragtime music as a hobby and has turned out over a dozen compositions to date. While his pieces are composed in various ragtime era styles, including foxtrots, cakewalks, classic rags, and stride piano, most of his pieces are composed in the novelty style popular during the 1920s. These pieces are influenced by his favorite composers: Arthur Schutt, Zez Confrey, Roy Bargy, Charley Straight, Max Kortlander, Les Copeland, Billy Mayerl and Joseph Lamb.
Carl Sonny Leyland
Carl Sonny Leyland blew everyone's socks off at our 4th Sutter Creek Ragtime Festival (when he was lesser known) and has subsequently done the same at just about all the prestigious festivals in the country, including the Scott Joplin and Blind Boone Festivals in Missouri, the West Coast Ragtime Festival in Sacramento, Orange County's RagFest, plus the Sacramento and San Diego Jazz Jubilees. We're lucky he loves us and agreed to thrill us with a return appearance this year. His ability to recreate obscure and primitive styles in the genre of barrelhouse, blues, and boogie woogie, combined with the originality and soulfulness of his own music, makes him one of today's most exciting pianists. Plus he sings!

Born in the south of England in 1965, Sonny took up piano at age 15. His inspiration was the boogie woogie music of Albert Ammons, Pete Johnson & Meade Lux Lewis. Fascinated by this style, Sonny traced it back to its Barrelhouse roots, incorporating the stylings of Jimmy Yancey, Cow Cow Davenport, Little Brother Montgomery and other notables into his own playing. In 1988, Sonny headed for New Orleans, where he lived for 10 years, appeared at the world-renowned New Orleans Jazz & Heritage Festival, and furthered his exploration of piano genres, including Blues, country, R&B, rockabilly, Rock and Roll, and, of course, traditional jazz and ragtime. He has toured in Europe and the United States as a solo act and with bands such as Anson Funderburgh and the Rockets and Big Sandy and His Flyrite Boys. Following a trip out west in 1995, Sonny relocated to California. He now resides with his wife in New Cuyama, CA. Sonny has several CDs to his name, his most recent with the Carl Sonny Leyland Trio, featuring Carl, Hal Smith on drums, and Marty Eggers on bass.
Larisa Migachyov
Larisa Migachyov has played the piano all her life and discovered ragtime in 2005, when she joined the San Antonio Ragtime Society. She has composed more than 20 rags and performed at various festivals around the country. Her latest CD, Oh, that Ragtime Chick!, features all her own compositions. She recently passed the California Bar Exam and has started her own firm specializing in patent law.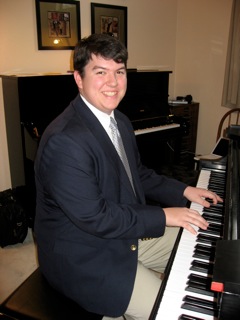 Will Perkins
Will Perkins is a pianist from a small town in the Central Valley of California called Riverbank. At age 11, Will began taking piano lessons. While he quickly started down the path of classical piano, his mother suggested learning The Entertainer. His piano teacher got a book with several ragtime pieces in it, and soon Will was learning a simplified version of Maple Leaf Rag. Full of ambition, he went to a local music store and picked up a book with several Scott Joplin pieces, and quickly learned the original version. And as they say, the rest is history.

Will also enjoys baseball, football, and is an avid Boy Scout. Will has played just about every instrument in the brass section, but has recently decided to focus solely on the piano. His love of all types of piano music can be seen by the venues at which he chooses to share his talent — whether it be at church or as the pianist for a recent High School Drama production of "Alice in Wonderland".

In November of 2007, he placed 1st in the West Coast Ragtime Festival Youth Competition for his division playing Joseph F. Lamb's Cottontail Rag. Will placed 3rd in the 2012 World Championship of Old-Time Piano Playing in Peoria, Ill., on his first entry to the adult category.
Bob Pinsker
Bob Pinsker was born and raised in Pittsburgh, Pennsylvania. He studied the violin with several members of the Pittsburgh Symphony Orchestra as a child and has been playing the violin in various orchestras for more than 40 years. He taught himself to play the piano in his early teens and soon developed a lifetime interest in the popular piano styles of the first half of the 20th century. He has studied old sheet music and piano rolls since the early 1970s. By day, Bob works as a plasma physicis. By night and on weekends, he conducts musicological research, rehearses with various ensembles, and appears as a solo pianist through such organizations as the Orange County Ragtime Society and the Monrovia-based Rose Leaf Ragtime Club, at festivals such as the Sutter Creek Ragtime Festival, West Coast Ragtime Festival, San Diego Thanksgiving Dixieland Festival and others, and at southern California venues such as the Old Town Music Hall in El Segundo and venues all around San Diego County. In 2005, he and Bruce Vermazen co-founded the Heliotrope Ragtime Orchestra which has been going great guns ever since, with two CDs released so far on Stomp Off Records.
Stevens Price
Stevens Price, former owner of the Sutter Creek Ice Cream Emporium for 13 years, is also the founder of the Sutter Creek Ragtime Festival and the Mother Lode Ragtime Society. He is proud to be able to bring his love for ragtime music to the Mother Lode. He grew up around music — singing in church by age 8 and performing in choirs thereafter, all the way through his college career. He started picking out tunes on the piano after hearing his dad perform "boogie woogie" on the family piano. Soon, Stevens began picking out music, and by age 12 he was playing boogie and other styles as a self-taught artist. Then he went to college as a music and drama major, where he decided to take piano lessons. Needless to say, he had to unlearn certain techniques. When he discovered ragtime, Stevens became a regular at the Maple Leaf Club meetings in Los Angeles. He still remembers playing Scott Joplin's "Maple Leaf Rag" with six other club members on six pianos. At the Ice Cream Emporium, Stevens still occasionally plays for the enjoyment of the customers, and due to the success of the Sutter Creek Ragtime Festival, the ice cream parlor has become the ragtime center of the Mother Lode and home of the Mother Lode Ragtime Society. Stevens has composed over a dozen ragtime compositions and has CDs and folios available for purchase. He also has composed dozens of praise and worship songs and is the Worship leader at his church in Pine Grove. He is currently the Music Director for the musical theater program at the Local High School. Stevens is active with the Sacramento Ragtime Society, and has performed at the Ragtime Corner during the Sacramento Jazz Jubilee.
Ragnolia Ragtette
The Ragnolia Ragtette mixes the elegant to humorous gems of the ragtime era with some of the newer, favorite contemporary rags. Listen as this artful combination of 4-hand piano, tuba and percussion present parlor tunes that burst forth in high ragtime style. Playing the music that originated from the recreational houses on one side of the tracks and later made its way to the upstanding respectable, family homes on the other, Ragnolia brings the ragtime era to life. It's ragtime with enthusiasm. This ensemble made its debut at the 2008 Sutter Creek Ragtime Festival.
Ragtime Skedaddlers
The Ragtime Skedaddlers were formed in 2008 to play ragtime string band arrangements for two mandolins and guitar. First mandolinist Dennis Pash is well known to ragtime enthusiasts as the founder of the legendary Etcetera String Band. He is an extraordinarily expressive player. No one is better at bringing out the folk roots that underlie so many ragtime compositions. In addition to numerous festival appearances as a performer, Dennis has written and lectured on the development of string ragtime. Nick Robinson plays the second mandolin part which is unique to the published string arrangements. Nick has played a variety of musics, including American old time, klezmer, and Indonesian gamelan. Dave Krinkel is an accomplished guitarist who also plays with the traditional American old time band, the Tea Sippers.

Noted ragtime music reviewer Jack Rummel recently wrote of the Skedaddlers' debut album: "This isn't just music for mandolin players or string-band lovers. This is ragtime for ragtime lovers, and the Ragtime Skedaddlers are the real deal."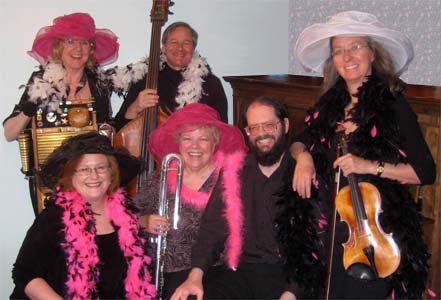 Raspberry Jam Band

The Raspberry Jam Band consists of:


Julia Riley - flute/piccolo
Tom Brier - piano
Kitty Wilson - percussion
John Massey - guitar
Shawn McCoy - vocals
Doug Davies - string bass
Bob Ferry - euphonium
Cheryl Woldseth - violin
Formed in December 2005 and expanded in 2011, the band has become part of the ragtime scene in the Sacramento and Sierra foothills areas. They have participated in the Ragtime Corner of the Sacramento Jazz Jubilee, the West Coast Ragtime Festival, and have been featured at Auburn Concert Band performances. They perform at the Sacramento Ragtime Society and The Mother Lode Ragtime Society meetings.

Interested in playing diverse works from classic ragtime to contemporary works, the group's byword is variety. Eclectic in nature, the Raspberries especially seek out obscure or seldom performed rags and feature the works of various contemporary composers. The addition of slide whistles, kazoos, costuming and props add an element of whimsy to their performances.

John Reed-Torres
John Reed-Torres was born and raised in Los Angeles. He first heard ragtime music during school recess in fifth grade. An ice cream wagon came creeping along, playing The Entertainer. Right then and there, ragtime bit him and simultaneously released multiple inner infatuations with antiquity, ranging from architecture to automobiles.

Shortly after that, John began to teach himself piano throughout his middle school and early high school days. He developed a short repertoire and began to play for friends and at church while simultaneously playing trombone in the high school marching band. He also marched and played trombone in the Pasadena Tournament of Roses Parade (2008-2012).

He worked up performances of a couple Scott Joplin rags as well as some classical pieces, winning first-place awards two years in a row in his school's talent show. He also played the soundtrack for a short, independent silent film that earned third place at a festival, and won a gold medal at the NAACP/ActSo competition in Los Angeles, which earned him a trip to perform in New York City. That same year (2009), John began music studies at Pasadena City College, where he began formal piano lessons and started to expand his repertoire. He has performed at various venues around Los Angeles and Pasadena, including the Rose Leaf Club, Old Town Music Hall, Xiem Clay Center, Holmans United Methodist Church, and Orange County ragtime societies, as well as the West Coast Ragtime Festival in 2011 and the Fullerton Ragfest in 2012.

John has written three rags and some classical shorts as well. He aspires to become a professional musician, composer, conductor, and mechanical engineer/architect. Being of a diverse ethnic heritage, John aims to acknowledge the links that connect us all, especially those through music. He wants to expound the many aspects of history, especially the history of ragtime, to his generation, so everyone will recognize ragtime as a monumental form in the development of culture and music.
Tim Rotolo
Tim Rotolo began playing piano at age 5. His interest in ragtime was sparked during visits to Disneyland. During one visit, the audience was asked if anyone would like to play. He did, catching the attention of the afternoon featured performer. Tim was soon introduced to Johnny Hodges, a featured pianist on Main Street for 25 years. Tim was blessed to study with Johnny for three years. He has also studied with Patrick Aranda.

Tim particularly enjoys the upbeat, energetic Revival-style ragtime popularized in the 1950s, ragging popular songs of the ragtime era, and creating his own arrangements of old standards.

In high school, Tim was a National Merit Finalist, and, in 2009, he earned his Eagle Scout award. Now 19 years old, Tim will be a junior at Claremont McKenna College, majoring in International Relations, and is in his 6th year of studying Mandarin Chinese. He has just returned from four weeks in Taiwan where he participated in a program to teach English in a small school on the west coast of the island.

Tim's dream is to combine his piano playing and Chinese while playing at Disney-Shanghai when it opens in 2014.

Tim has two CDs, titled Re-Keyed (2009) and Dust and Ivory (2011). He has been a featured performer not only at the Sutter Creek Ragtime Festival, but also at the West Coast Ragtime Festival and the Ragtime Corner of the Sacramento Music Festival.
Ray Skjelbred
Ray Skjelbred has been a featured piano soloist in concerts and festivals for many years. He has appeared at the West Coast Ragtime Festival, Breda Jazz Festival in Holland, the America's Finest City Festival in San Diego, the Edinburgh Festival in Scotland and many others. He has also led his own groups (the Ray Skjelbred Quartet, the Great Excelsior Jazz Band, Berkeley Rhythm, the Yeti Chasers, Ray Skjelbred and his Cubs, the Monogram Boys, and the First Thursday Band) and has played and recorded with most of the leading traditional jazz musicians of the past few decades.

Ray has worked with Turk Murphy's Jazz Band, Bob Mielke's Bearcats, Hal Smith's Roadrunners and with a variety of other groups that included or were led by Dick Oxtot, Ev Farey, Jim Goodwin, Bob Helm, Bill Napier, Richard Hadlock, John Gill, Clint Baker, Chris Tyle, Monte Ballou, Kim Cusack, Simon Stribling and many others.

He currently works most often with Bob Schulz and the Frisco Jazz Band, Simon Stribling's New Orleans Ale Stars, Glenn Crytzer and his Syncopators, and his own First Thursday Band (which plays regularly at the New Orleans Creole Restaurant in Seattle's Pioneer Square). Ray has also been a chosen accompanist for jazz and blues singers such as Barbara Dane, Barbara Lashley, Rebecca Kilgore, Claire Austin, Pat Yankee, Carol Leigh and the legendary Victoria Spivey.

His piano work appears on the Triangle/Rhythm Master, Solo Art, Arcola, Pianomania, Euphonic, Stomp Off, Jazzology, Berkeley Rhythm and Orangapoid labels.

Ray usually performs an eclectic mix of early jazz standards, blues, barrelhouse, classic ragtime, unexpected pop tunes and original compositions.
Squeek Steele

Born and raised in eastern Kentucky, Squeek Steele began playing the piano by ear at the age of 3, with her formal music training beginning when she was 8. Squeek holds a Master's Degree in music. A pianist, organist, composer and teacher, Squeek has performed internationally from Singapore to Germany, New Zealand and Nepal, and on the east and west coasts of the United States.

Hailed as "a lightning bolt in a black dress" (Philadelphia Inquirer), Squeek played her way into the Guinness Book of World Records for most songs performed on piano from memory (1990 book, p.18, under "Squeek" Moore). She performed 1,852 songs in a three-week period. The record remains unbroken.

Though Squeek is classically trained, she plays all styles and genres of music. Specializing in ragtime and early 20th Century American popular music, she has recorded 15 CDs.

Squeek now makes her home in the old mining town of Virginia City, Nevada, where you can sometimes find her playing at the Bucket of Blood Saloon or down at the Gold Hill Hotel.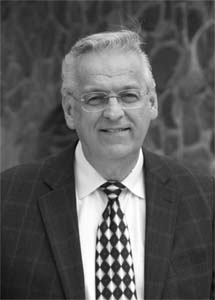 Paul Stewart

Paul Stewart has performed Classic Piano Ragtime in Manchester, England, and in Bologna, Italy, for international music conferences. He presented his seminar, "Bands, Bars, and Banjos: influences on Ragtime," for the Scott Joplin Ragtime Festival in Sedalia, Missouri. He has also appeared at the Rocky Mountain Ragtime Festival in Boulder, Colorado. Paul is Professor of Music at the University of North Carolina at Greensboro. His piano performance degrees are from Indiana University, University of Illinois and Florida State University.

Paul has been active in music teaching associations and served as the Music Teachers National Association President 2005-2007. As an active performer, he has appeared as piano soloist with the North Carolina Symphony four times and given numerous solo and chamber music recitals. His longtime interest and research into ragtime piano music culminated in his 2007 CD titled "Rhythm and Rags". Professor Stewart has given ragtime workshops, pedagogical sessions and performances for numerous local music associations and state conferences of the Music Teachers National Association.
Monty Suffern

Monty Suffern is an Australian who currently resides in Texas where he leads a retired life, walking his dogs, building an airplane and practicing his piano whenever possible. He has been playing piano more than 60 years, having started on his seventh birthday, and concentrates mainly on ragtime and stride styles.

Monty attended the 2008 Sutter Creek Ragtime Festival on his way from Texas to Melbourne, Australia, to visit family (everyone knows that Sutter Creek is en route between Texas and Australia). He intended simply to enjoy the festival as an audience member, but due to the illness of one of the featured artists, Monty was co-opted onto the program. His very unique rollicking style (which uses handfuls of notes) was quite a hit, and he enjoyed this role so much that he has agreed to return each year since.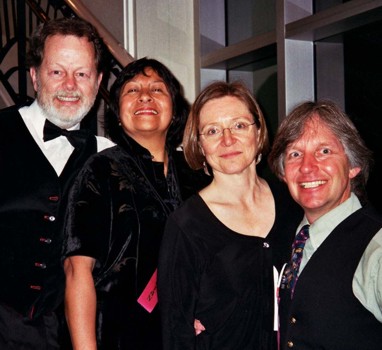 The Sullivans and Drivons

The Sullivans offer an array of contemporary and classic rags, including Latin tangos and waltzes, plus ragtime and novelty songs. Among the pillars of the Sacramento and West Coast Ragtime Societies, the Sullivans have been part of the ragtime scene for many years. They have enjoyed performing at various festivals, concerts, and special events — from Santa Nella to China for Shanghai television.

A Sacramento native, Petra Sullivan has a degree in Music and teaches violin and piano. Bub Sullivan studied classical piano as a child, then later took up string instruments before discovering ragtime as a student in St. Louis.

The Sullivans are delighted to have the Drivons rounding out the quartet with their excellent talent and tasteful musicality. Robyn Drivon is Counsel for Yolo County. Steve Drivon tours professionally, most recently with the Rock Bottom Boys. The Drivons make their home sweet home in Woodland.
Keith Taylor
Keith Taylor began playing ragtime in 1972. Until that time, his musical background was classically oriented. Earning a Bachelor of Music degree in piano and a Masters in composition, including studying composition in Paris, France, he continues to perform and compose both types of music. For many years he taught instrumental music in the Los Angeles Public Schools. He currently lives with his wife in Azalea, Oregon where he freelances as a composer and a pianist. Since boyhood, Keith has traveled twice a year to the Mother Lode to photograph the historic towns and to play every saloon piano he finds — tuning and repairing them while he's at it — a very popular fellow! In 1998 he dropped by the Sutter Creek Ice Cream Emporium, where he discovered another piano and Stevens Price, someone he hadn't seen since the two met at The Maple Leaf Club in Los Angeles 20 years earlier. Keith was the inspiration behind Stevens' decision to organize the Sutter Creek Ragtime Festival of 1999, and that was such a success, Keith returned home and re-organized the Cascade Ragtime Society which now sponsors an early April Ragtime Festival in Roseberg, Oregon. Keith, along with Tom Bopp, is also responsible for initiating the Fresno Flats Vintage Music Festival held each February in Oakhurst, CA. Keith's latest undertaking is the Annual Shaniko Ragtime and Vintage Music Festival held in a wonderful ghost town in Oregon each September.
Virginia Tichenor
Virginia Tichenor has been consumed by ragtime her entire life. She is the daughter of Trebor Tichenor, the noted ragtime scholar, pianist, collector and founder of the St. Louis Ragtimers. She studied music at the St. Louis Community Association for the Arts and took advanced training from concert pianist, John Phillips. Always at the crossroads of the ragtime revival, her parental home houses the world's largest library of ragtime sheet music and piano rolls. Virginia grew up with legends like Eubie Blake, Max Morath and Butch Thompson chatting in her own living room. Her father is advisor-confidant for most of the ragtime community, so Virginia often heard new rags when they were forming in the minds of their composers. The topic of her college research project? The ragtime revival, of course! In 1998, Virginia released her first solo recording, a CD entitled Virginia's Favorites. It includes four two-piano duets with her father, Trebor. It was so popular, the family has since released two other CDs, "The Tichenor Trio" which includes Virginia's father and her multi-talented husband, Marty Eggers, and most recently, "Ragtime Reunion - Tichenor Family Five" featuring Virginia, her dad, her husband, her brother, and her sister-in-law. She is the Vice President, and past President, of the West Coast Ragtime Society.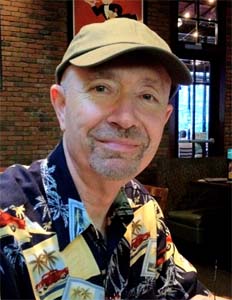 Galen Wilkes
Galen Wilkes has contributed much to the ragtime scene over the last few decades. Many know and play his popular rags, written in all styles from cakewalk to stride. But his talents extend far beyond that of composer. Besides several volumes of his own published piano rags, he has produced two radio series on ragtime (in New York and California), has done extensive research into various topics of its history, published articles, liner notes and booklets, taught courses, and given seminars. He ran the Palm Leaf Ragtime Orchestra and revived dancing to ragtime by creating the Ragtime Ball and having lessons taught. Such dancing is commonplace at ragtime events today through his efforts. He also has produced concerts, and The New England Ragtime Festival. One of his most cherished accomplishments is traveling through regions of the country to record people's memories and histories for preservation and future generations. Galen loves the era and sharing it with others.

To that end, Galen will be presenting a seminar at this year's festival, called Ragtime and Silent Cinema, part 1: Making Hits on the Silver Screen. Sheet music, piano rolls and phonograph records all spread the new, exciting sound of ragtime in America 100 years ago. But one of the most popular media of all — seen by millions on a daily basis — isn't even remembered, nor has it been mentioned in any book on ragtime history. Come learn the fascinating story about one of the biggest sensations of the ragtime era you never heard of, and how it shared the popularity with silent movies in thousands of nickelodeons.