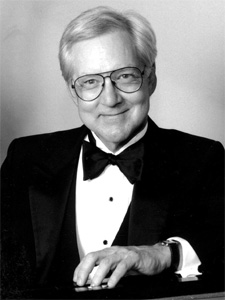 Elliott Adams
Elliott Adams has been playing ragtime since age 10 and is now known internationally as a ragtime player, collector, historian, writer, and composer.

His extensive collection of ragtime, blues, and early jazz sheet music is available to researchers, musicians, and publishers. He has several notable solo recordings on the Stomp Off and PianoMania labels.

Elliott is an intrepid golfer and a practicing dermatologist.
Ad Hoc Flute Quartet
The Ad Hoc Flute Quartet arose at the 2015 Sutter Creek Ragtime Festival, originally intended to be a "secret" gathering. The group's debut was at an open-mic session at the following West Coast Ragtime Festival. The name came about because the quartet only meets at ragtime festivals since the members live so far apart: (from left to right in photo) Bonnie Gonzalez in Corte Madera, Calif.; Julia Riley in Auburn, Calif.; Michael Chisholm in Sugar Land, Texas; and Sue Desper in Rancho Cordova, Calif. Rags, marches, and cake walks of all caliber fill the quartet's repertoire, dazzling audiences of all ages.
Patrick Aranda
Patrick Aranda is one of ragtime's most entertaining and talented performers. He plays a mean piano, sings, performs on trombone, tuba, and who knows what all (not necessarily all at once), and has a huge ragtime repertoire, including the most difficult and flashy novelty-style rags, plus classic rags, Harlem stride compositions, and favorite tunes from the Tin Pan Alley era.

Fans can currently see him perform at Disneyland as main Street's Ragtime pianist on Fridays and Saturdays. He also plays piano with various traditional jazz groups including Auntie Skinners Lucky Winners Jazz Band, and The Burgundy Street Jazz Band.

He is a Music Professor at Chaffey College in Rancho Cucamonga, where he directs the Jazz Band and Concert Band, as well as teaching classes ranging from theory and musicianship to History of Jazz. He also stays busy directing at least three musicals a year.

He made his Sutter Creek Ragtime Festival debut in 2002 and has been invited back by popular demand ever since. In 2003 he was among the modern ragtime composers we honored at our Festival, having created several of his own ragtime pieces, including one inspired by his Sutter Creek debut. Patrick is a favorite headliner at Orange County's annual RagFest and The Ragtime Corner of the Sacramento Jazz Jubilee. He has also been featured at the West Coast Ragtime Festival in Sacramento.

In his spare time, Patrick plays trombone in his brother's Salsa band; performs with several Southern California Dixieland groups, and, has recorded his own solo CD.

In addition to being chair of the music department at the college, he has also been performing steadily in a band with Amanda Castro throughout Southern California. Together, Patrick and Amanda played for the Seattle Seahawks' holiday party. They have also played with Delfayo Marsalis.
Nick Arteaga
Nick Arteaga was born and raised in Orangevale, a suburb of Sacramento. Since 2012, he has been a regular performer at the Sacramento Ragtime Society meetings and the Ragtime Corners of the Sacramento Music Festival. Nick's interest in ragtime began in his teens and was originally just a diversion from his formal classical studies. In his late 20s, Nick began composing piano rags and has since branched out to composing works in many other styles. To date Nick has written close to 200 compositions including many piano rags, Latin American compositions and teaching pieces for piano students.

Currently, Nick spends most of his time giving piano lessons, working as a freelance composer/arranger, and helping with his family's real estate business. Besides ragtime, Nick enjoys comedy, cooking and trying unusual foods.
Ramona Baker
Ramona Baker is 15 years old and has been playing ragtime for four years under Virginia Tichenor, but she has been interested in ragtime for many more years than that. She credits her father, noted jazz musician Clint Baker, as the one who first interested her in this addictive music. It started with a few records from the 1900s that had ragtime dance music on them, which Ramona recalls hearing when she was three to four years old.

Ramona hunts down the oldest examples of recorded Ragtime on cylinders and early disk records. She will be performing some of the rarest pieces at the festival. Besides Sutter Creek, Ramona has performed at the West Coast, Santa Cruz, and Scott Joplin Ragtime Festivals.
Jack and Chris Bradshaw
With 88 keys and 20 fingers at their disposal, classically trained ragtime piano duo artists Jack and Chris Bradshaw of Gilroy, California, righteously proclaim having the most piano keys held down at any one time — many of them right! Not going for speed, their quest is for clarity and classic ragtime charm as their fingers dance off the keyboard to Jack's four-hand arrangements of popular rags, cakewalks, marches and novelty numbers. Jack also performs solos during their sets. His first CD, A Minor Entertainer, will be available for sale at this festival.

Besides performing at Sutter Creek, this lively pair gets around and has appeared at the West Coast, Scott Joplin, Blind Boone, Shaniko, Santa Cruz, Fresno Flats, and Oakhurst Ragtime Festivals, and at Old Town Music Hall in El Segundo. The rollicking road to ragtime thus far has taken them to eleven states, Canada and Switzerland. They also play in the Ragnolia Ragtette with the Drivons.
Tom Brier
Tom Brier, affectionately dubbed "Hot Rod Tommy," used to be California's greatest ragtime secret until the summer of 2001, when he made his debut to tremendous applause (and much jaw-dropping) at the Scott Joplin Festival in Sedalia, MO and the Blind Boone Festival in Columbia, MO. This composing genius and pianist extraordinaire hails from Oakdale, a Central Valley farming community south of Sacramento. He currently lives in Sacramento where he works as a programmer/analyst for the County of Sacramento. Tom caught the ragtime bug when his parents purchased a Schubert mechanical player. He was only 4, but when he started picking out tunes he heard on the piano rolls, his parents immediately found him a piano teacher. Soon Tom was notating his own music and by age 11, he had composed nearly a dozen rags. Today he has well over 160 ragtime compositions to his name (more than 200 if collaborations with other composers are counted), all remarkably original but clearly demonstrating his depth of understanding of early ragtime subtleties. In 1985, at age 14, Brier made his first appearance at the Sacramento Ragtime Society meeting, blowing everyone away with his signature rapid-fire left hand runs. Since that time, Brier has been a mainstay at the Ragtime Corner of the Sacramento Jazz Jubilee, the West Coast Ragtime Festival, and recently our Mother Lode Ragtime Society gatherings. He has recorded six CDs, has a vast ragtime sheet music collection, is noted for performing and popularizing extremely rare but wonderful rags, and for inspiring pianists to attempt to keep up with him.
Diego Bustamante
Seventeen-year-old Diego Bustamante, from Paradise, California, became interested in ragtime when, as a kid, he heard The Entertainer by Scott Joplin. The ragtime world discovered him at the West Coast Youth Ragtime Competition six years ago. Since then he has appeared at Sutter Creek, Oakhurst, and West Coast festivals, the Old Town Music Hall in Los Angeles, plus several youth concerts. He has been studying piano for 10 years, the last seven with Dr. Robert Bowman. Last year, Diego completed his first CD, Classical and Ragtime, Side-by-Side. Besides again hosting the popular "Diego & Friends" youth concert on Saturday, this year Diego has ventured into new territory and will be accompanying the silent movie Cops, a short comedy starring Buster Keaton, to open the Friday silent film set. Along with his passion for piano, Diego enjoys birding and skiing.
Amanda Castro
Amanda Castro is a singer specializing in vintage jazz music from 1900 to 1940. Along with Patrick Aranda, she co-leads The Amanda Castro Band. They currently are the house band at Ralph Brennan's Jazz Kitchen located in Downtown Disney. They appear every weekend playing New Orleans and vintage jazz. They also perform a few times per month at the Beverly Hills Montage Hotel, as well as local jazz clubs, restaurants and private events.

Amanda and Patrick have appeared in concert with jazz trumpet player and 10-time Grammy winner Arturo Sandoval. They also had a television appearance on Good Day LA, Channel 11. Together, Amanda and Patrick played for the Seattle Seahawks' holiday party. They have also played with Delfayo Marsalis.
Michael Chisholm
Michael Chisholm is from Houston, Texas, and has grown up in a musically appreciative family. His first music training was in middle school, where he learned to play the xylophone and marimba. Eventually, he graduated to piano. Michael's first exposure to ragtime was watching JoAnn Castle play on a rerun of the Lawrence Welk Show. From that moment, he knew ragtime was his style of music. Since then, he has composed over 50 rags and has started collecting the original prints of ragtime sheet music. Besides piano, Michael likes to rag out on the flute, piccolo, and clarinet.
Danny Coots
It was 1964 in upstate New York when Danny Coots began playing drums at the tender age of 6 years old. Since then, he has studied with Nick Baffaro, Rich Holly, Alan Koffman and Jim Petercsak in percussion.

Danny attended The Crane School of Music and St. Lawrence University. He eventually served as adjunct faculty at St. Lawrence University, Clarkson University and Potsdam State University from the 1970s into the 1990s. He continued traveling and performing with David Amram, Ray Shiner, Daniel Pinkham, Herb Ellis, Will Alger, Jack Mayhue, Speigle Wilcox, Mimi Hines, Phil Ford, Bob Darch, Pearl Kaufman and Arthur Duncan.

In 1996 Danny moved to Nashville, Tennessee, and has lived there ever since. Danny has recorded extensively in Nashville, New York and L.A., and has appeared in over 100 countries. He has played on over 90 recordings, one of which won a Grammy in 2005.

After moving to Tennessee, Danny joined the Jack Daniel's Silver Cornet Band for five years and helped found the Titan Hot Seven. During this time, he played and recorded with Dick Hyman, Johnny Varro, Jeff Coffin, Tim Laughlin, Harry Allen, Dave Hungate, Jerry Krahn, Bill Allred, John Allred, Randy Reinhart, Ron Hockett, John Cocuzzi, John Sheridan, Dan Barrett, Vince Giordano, Rebecca Kilgore, Ken Peplowski, Duke Heitger, Neville Dickie, Bob Shultz, Nicki Parrott, Bucky Pizzarelli, John Pizzarelli, Yve Evans, Chuck Hedges, and Allen Vache, to name a few.
The Crown Syncopators
Featuring the virtuoso piano stylings of Frederick Hodges, with accompaniment by Marty Eggers on tuba and Virginia Tichenor on drums, The Crown Syncopators were formed to perform at San Francisco's Pier 23, where each of its members also plays solo piano monthly. Their repertoire is almost exclusively ragtime.
Kylan deGhetaldi
Kylan deGhetaldi is from Santa Cruz, California. Raised in a musical family, he discovered Scott Joplin at a young age and there was no turning back. Although he continued studying classical and jazz, eventually at both Oberlin and UC Santa Cruz, his passion remains playing the styles of ragtime, novelty, and stride piano.

Kylan also has developed a small following on the internet, most notably his YouTube channel which has amassed nearly 2 million views. He also has drawn a great deal of inspiration from the compositions and styles of Tom Brier, Vincent Johnson, Max Keenlyside, Larisa Migachyov, Carl Sonny Leyland.

Kylan is in charge of the Santa Cruz Ragtime Festival that happens in February. Recently he toured Europe playing with Postmodern Jukebox, a music collective that performs modern popular songs in ragtime and traditional jazz styles.

A church organist, Kylan also enjoys composing choral music. His other nerdy passion is word games, inspiring him to become, of all things, a tournament Scrabble and Boggle player.
The Drivons
Robyn and Steve
The Drivons became part of the West Coast ragtime movement in 2003 when Robyn was approached by Petra and Bub Sullivan to begin performing with the Porcupine Ragtime Ensemble. Soon after, Steve joined in playing trombone, and their new love for ragtime was born. A couple of years ago, Steve started showing up with his snare drum, which fostered the Sullivans & Drivons quartet. The Drivons have since become known to many ragtime fans and musicians as familiar and welcomed performers in a number of festivals and concerts in California.

Since the 2009 Sutter Creek Festival, the Drivons have played by themselves as a duo. With Robyn on tuba, Steve will sing some of their favorite ragtime era songs while adding rhythm and chords on tenor guitar. The Drivons can also be heard with Chris and Jack Bradshaw as the Ragnolia Ragtette.

Robyn Drivon has played the tuba since she was 10 years old, and has now oompahed with orchestras, symphonic bands, and brass ensembles in California and the Midwest, including several European tours. An accomplished tubist, Robyn relinquished her position with the Stockton Symphony in 1986 to begin law school. In 2006 she and hubby Steve moved to Woodland, Calif., where she is County Counsel for Yolo County. Since entering the Ragtime scene, Robyn has started studying the piano, and loves it! The grand kids call her "Nama".

Steve "Pops" Drivon has enjoyed a career's worth of traditional jazz, early American pop, and band music accomplishments. He now spends much of the year on the road singing and playing washboard and slidewhistle. Steve has toured since the 1970s with the Port City Jazz Band as well as the last 12 years with the Washboard Wizardz. He also toured previously with his one-man show, Stevie the Musical Clown, and as crooner/lead trombonist with the Glenn Miller Orchestra.
Marty Eggers
Marty Eggers is well known on the West Coast as a top-notch ragtime pianist and bassist. Marty's music career began in Sacramento where as a teenager he helped found the Sacramento Ragtime Society in 1982. He has played with numerous San Francisco Bay Area jazz and ragtime groups, most notably John Gill's San Francisco JazzBand and the Black Diamond Jazz Band. His talent and versatility have led him into several varied and prestigious engagements, from recording with traditional jazz legend Bob Helm to touring Germany with Hal Smith's Rhythm Cats to playing in backup bands for both Leon Redbone and Butch Thompson. Marty, from Oakland, Calif., is also a skilled composer and arranger of ragtime and traditional jazz.

He also appears with the Tichenor Family Trio (Trebor Tichenor, Virginia Tichenor, and Marty) and performs as a soloist at least once a month on Tuesday evenings at Pier 23 in San Francisco and Wednesday evenings at the Straw Hat Pizza Parlor in Rancho Cordova, CA.
Terry Waldo describes Marty as having "an encyclopedic knowledge of the ragtime and early jazz repertoire."
Marty is married to ragtime pianist Virginia Tichenor (see below) and is a past president of the West Coast Ragtime Society.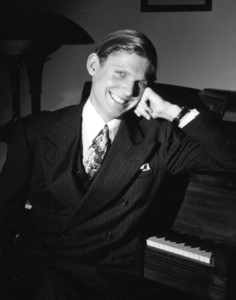 Frederick Hodges
Frederick Hodges, of Berkeley, CA was groomed for a career as a concert pianist but was happily lured away from his path after he found a stack of turn-of-the-century sheet music in his grandmother's piano bench. Repeated exposure to the rollicking ragtime rhythms of player pianos and 78 rpm phonograph records sealed his fate and he set out to master the ragtime playing styles that had captivated him.

While still an undergraduate at UC Berkeley, he was hired as pianist for the Royal Society Jazz Orchestra, for which he has played for 20 years. He also performs with the Peter Mintun Orchestra, with jazz ensembles, and as a soloist. He appears at least once a month on Tuesday evenings at Pier 23 in San Francisco and Wednesday evenings at the Straw Hat Pizza Parlor in Rancho Cordova, CA and he is a much applauded featured performer at the Sacramento Jazz Jubilee's Ragtime Corner and West Coast Ragtime Festival.
Brian Holland
Brian Holland is an internationally renowned pianist, composer, recording artist, and entertainer who has enjoyed a music career spanning more than 35 years. After spending his formative years playing in pizza parlors and clubs throughout Indiana, Brian's career flourished when he discovered the World Championship Old-Time Piano Playing Contest. In 1999 he won his third title and was retired as "undefeated". He has since returned three times to serve on the judging panel, most recently in 2014. Brian has played with some of the hottest jazz bands in the U.S. — Titan Hot Seven, Wally's Warehouse Waifs, the Holland Rhythm Company, and others &mash; and has traveled all over the world performing his creative styles of jazz, ragtime, stride, boogie, and blues. Most recently, Brian and drummer Danny Coots have formed a musical partnership, and together they are quickly building a reputation as the fun and musical duo Holland & Coots. Brian has fourteen recordings (solo and ensemble) to his credit, and garnered a Grammy nomination for his work with Bud Dresser on their album, "Ragtime - Goodtime - Jazz".
Vincent Johnson
Vincent Johnson, a ragtime composer, pianist, researcher, and enthusiast, was first attracted to ragtime music at age 12, after hearing his friends play Scott Joplin rags. He began learning "The Entertainer" and "Maple Leaf Rag" by watching and listening to the pieces being played by others. He began attending Rose Leaf Ragtime Club gatherings in order to learn more about this musical genre and listen to live performers play rags. Piano lessons soon followed, and soon he was learning pieces of varying ragtime styles, from classic ragtime to novelty piano.

In 2007, Vincent began to compose ragtime music as a hobby and has turned out over a dozen compositions to date. While his pieces are composed in various ragtime era styles, including foxtrots, cakewalks, classic rags, and stride piano, most of his pieces are composed in the novelty style popular during the 1920s. These pieces are influenced by his favorite composers: Arthur Schutt, Zez Confrey, Roy Bargy, Charley Straight, Max Kortlander, Les Copeland, Billy Mayerl and Joseph Lamb.
Charlie Judkins
Charlie Judkins is a practitioner of Ragtime, Jazz and Blues piano, as well as a lifelong Brooklyn native. He began playing piano in 1997 at age six. In 2005 he began performing as pianist with various modern jazz ensembles at the Brooklyn Conservatory of Music. In 2007 he was introduced to the music of Jelly Roll Morton and immediately quit modern jazz to study ragtime and blues. Shortly thereafter he came under the tutelage of several highly regarded pianists such as Terry Waldo, Mike Lipskin, Ehud Asherie and the late George Mesterhauze.

His piano playing has been in high demand at various public and private dens of iniquity in the New York City area since he debuted as a professional bar-room pianist in the summer of 2010. He also works as a silent-film accompanist, and recently has begun providing piano scores for historian and archivist Tom Stathes' series of silent-animation DVD releases. By day he works as an animator and storyboard artist, and is the co-author of a forthcoming book detailing the history of New York's animation business in its earliest years.
Carl Sonny Leyland
Carl Sonny Leyland blew everyone's socks off at our 4th Sutter Creek Ragtime Festival (when he was lesser known) and has subsequently done the same at just about all the prestigious festivals in the country, including the Scott Joplin and Blind Boone Festivals in Missouri, the West Coast Ragtime Festival in Sacramento, Orange County's RagFest, plus the Sacramento and San Diego Jazz Jubilees. We're lucky he loves us and agreed to thrill us with a return appearance this year. His ability to recreate obscure and primitive styles in the genre of barrelhouse, blues, and boogie woogie, combined with the originality and soulfulness of his own music, makes him one of today's most exciting pianists. Plus he sings!

Born in the south of England in 1965, Sonny took up piano at age 15. His inspiration was the boogie woogie music of Albert Ammons, Pete Johnson & Meade Lux Lewis. Fascinated by this style, Sonny traced it back to its Barrelhouse roots, incorporating the stylings of Jimmy Yancey, Cow Cow Davenport, Little Brother Montgomery and other notables into his own playing. In 1988, Sonny headed for New Orleans, where he lived for 10 years, appeared at the world-renowned New Orleans Jazz & Heritage Festival, and furthered his exploration of piano genres, including Blues, country, R&B, rockabilly, Rock and Roll, and, of course, traditional jazz and ragtime. He has toured in Europe and the United States as a solo act and with bands such as Anson Funderburgh and the Rockets and Big Sandy and His Flyrite Boys. Following a trip out west in 1995, Sonny relocated to California. He now resides with his wife in New Cuyama, CA. Sonny has several CDs to his name, solos and with the Carl Sonny Leyland Trio, featuring Carl, Hal Smith on drums, and Marty Eggers on bass.
Larisa Migachyov
Larisa Migachyov has played the piano all her life and discovered ragtime in 2005, when she joined the San Antonio Ragtime Society. She has composed more than 20 rags and performed at various festivals around the country. Her latest CD, Oh, that Ragtime Chick!, features all her own compositions. She recently passed the California Bar Exam and has started her own firm specializing in patent law.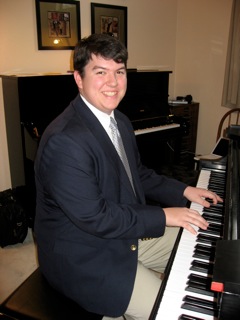 Will Perkins
Will Perkins is a pianist originally from a small town in the Central Valley of California called Riverbank, but now living in Idaho. At age 11, Will began taking piano lessons. While he quickly started down the path of classical piano, his mother suggested learning The Entertainer. His piano teacher got a book with several ragtime pieces in it, and soon Will was learning a simplified version of Maple Leaf Rag. Full of ambition, he went to a local music store and picked up a book with several Scott Joplin pieces, and quickly learned the original version. And as they say, the rest is history.

Will also enjoys baseball, football, and was an avid Boy Scout. Will has played just about every instrument in the brass section, but decided to focus solely on the piano. His love of all types of piano music can be seen by the venues at which he chooses to share his talent — whether it be at church or as the pianist for a High School Drama production of "Alice in Wonderland".

In November of 2007, he placed 1st in the West Coast Ragtime Festival Youth Competition for his division playing Joseph F. Lamb's Cottontail Rag. Will placed 3rd in the 2012 World Championship of Old-Time Piano Playing in Peoria, Ill., on his first entry to the adult category. Last year he returned from a two-year mission in Uruguay.
Porcupine Ragtime Ensemble

The Porcupine Ragtime Ensemble consists of:


Elliott Adams - piano
Susan Desper - flute, piccolo
Robyn Drivon - tuba
Steve Drivon - trombone, percussion, vocals
Bub Sullivan - mandolin, cümbüş, vocals
Petra Sullivan - violin
The Porcupines first played at early Sacramento Ragtime Society meetings, exploring Elliott's sheet music collections. Their repertoire varies from folk rags to tangos, cakewalks, classical rags, marches, waltzes, one- and two-steps, and a broad variety of songs.

Elliott Adams is well-known as a collector, as well as historian, writer and composer. Petra Sullivan teaches piano and violin, and finds that herding Porcupines can be a true challenge. Raised with classical piano, Bub Sullivan has played string instruments and keyboard in a variety of musical groups. Susan Desper has been music director for stage productions and currently performs in several area symphonic bands. When Robyn Drivon began playing tuba, it was bigger than she was. By now she has oom-pahed with many orchestras, symphonic bands, and brass ensembles. Steve Drivon toured as lead trombonist and vocalist with the Glenn Miller Orchestra and the Rock Bottom Boys.
Stevens Price
Stevens Price, former owner of the Sutter Creek Ice Cream Emporium for 13 years, is also the founder of the Sutter Creek Ragtime Festival and the Mother Lode Ragtime Society. He is proud to be able to bring his love for ragtime music to the Mother Lode. He grew up around music — singing in church by age 8 and performing in choirs thereafter, all the way through his college career. He started picking out tunes on the piano after hearing his dad perform "boogie woogie" on the family piano. Soon, Stevens began picking out music, and by age 12 he was playing boogie and other styles as a self-taught artist. Then he went to college as a music and drama major, where he decided to take piano lessons. Needless to say, he had to unlearn certain techniques. When he discovered ragtime, Stevens became a regular at the Maple Leaf Club meetings in Los Angeles. He still remembers playing Scott Joplin's "Maple Leaf Rag" with six other club members on six pianos. At the Ice Cream Emporium, Stevens still occasionally plays for the enjoyment of the customers, and due to the success of the Sutter Creek Ragtime Festival, the ice cream parlor has become the ragtime center of the Mother Lode and home of the Mother Lode Ragtime Society. Stevens has composed over a dozen ragtime compositions and has CDs and folios available for purchase. He also has composed dozens of praise and worship songs and is the Worship leader at his church in Pine Grove. He is currently the Music Director for the musical theater program at the Local High School. Stevens is active with the Sacramento Ragtime Society, and has performed at the Ragtime Corner during the Sacramento Jazz Jubilee.
Ragnolia Ragtette
The Ragnolia Ragtette mixes the elegant to humorous gems of the ragtime era with some of the newer, favorite contemporary rags. Listen as this artful combination of 4-hand piano, tuba and percussion present parlor tunes that burst forth in high ragtime style. Playing the music that originated from the recreational houses on one side of the tracks and later made its way to the upstanding respectable, family homes on the other, Ragnolia brings the ragtime era to life. It's ragtime with enthusiasm. This ensemble made its debut at the 2008 Sutter Creek Ragtime Festival.
John Reed-Torres
John Reed-Torres was born and raised in Los Angeles. He first heard ragtime music during school recess in fifth grade. An ice cream wagon came creeping along, playing The Entertainer. Right then and there, ragtime bit him and simultaneously released multiple inner infatuations with antiquity, ranging from architecture to automobiles.

Shortly after that, John began to teach himself piano throughout his middle school and early high school days. He developed a short repertoire and began to play for friends and at church while simultaneously playing trombone in the high school marching band. He also marched and played trombone in the Pasadena Tournament of Roses Parade (2008-2012).

He worked up performances of a couple Scott Joplin rags as well as some classical pieces, winning first-place awards two years in a row in his school's talent show. He also played the soundtrack for a short, independent silent film that earned third place at a festival, and won a gold medal at the NAACP/ActSo competition in Los Angeles, which earned him a trip to perform in New York City. That same year (2009), John began music studies at Pasadena City College, where he began formal piano lessons and started to expand his repertoire. He has performed at various venues around Los Angeles and Pasadena, including the Rose Leaf Club, Old Town Music Hall, Xiem Clay Center, Holmans United Methodist Church, and Orange County ragtime societies, as well as the West Coast Ragtime Festival and the Fullerton Ragfest.

John has written three rags and some classical shorts as well. He aspires to become a professional musician, composer, conductor, and mechanical engineer/architect. Being of a diverse ethnic heritage, John aims to acknowledge the links that connect us all, especially those through music. He wants to expound the many aspects of history, especially the history of ragtime, to his generation, so everyone will recognize ragtime as a monumental form in the development of culture and music.
John Remmers
John Remmers, from Ann Arbor, Mich., is a retired professor of computer science with a serious addiction to playing ragtime piano. He is seen and heard frequently at ragtime festivals around the U.S., whether it be in open-piano after-hours sessions or as a billed performer. In addition, he dabbles in creative writing and has an interest in web design and programming.
Julia Riley
Julia Riley started playing the flute in the 4th grade but didn't play for over 20 years while she raised four children. She likes to play in small ensembles and has been instrumental in forming many ensembles including a flute quartet, a flute choir, a wind quintet, the Raspberry Jam Band, and Frederick Hodges' All-Girl Orchestra. She has organized and directed a music series in Auburn through the Pioneer United Methodist Church for the past three years. In addition to the flute, she plays piccolo, alto flute, bass flute and piano.
The RJB Trio
The RJB Trio is a subset of the Raspberry Jam Band consisting of John Massey, guitar and vocals; Julia Riley, flute and bass flute; and Cheryl Woldseth, violin and vocals. The group has performed at the Sonoma Ragtime Festival and Music for Humanity as well as performing in Raspberry Jam Band concerts. This is their first appearance at the Sutter Creek Festival. Guitarist John Massey is a well-known bluegrass musician with an extensive recording career. Cheryl Woldseth performs in an international hand-bell choir and is conductor of the Nevada County Concert Band. Julia has been active as an organizer, manager and performer in multiple small ensembles. Their repertoire consists of music from 1900 to the present.
Tim Rotolo
Tim Rotolo first appeared as a 15-year-old walk-on at our 2008 festival. He is a graduate of Claremont McKenna College, with a degree in International Relations. Tim speaks Chinese, and in 2013 he spent a semester in Taipei, Taiwan. He was also an Eagle Scout.

Tim began playing piano at age 5. His interest in ragtime was sparked during visits to Disneyland. During one visit, the audience was asked if anyone would like to play. He did, catching the attention of the afternoon's featured performer. Tim was soon introduced to Johnny Hodges, a long-time Main Street pianist. Tim was blessed to study with Johnny for three years. He has also studied with Patrick Aranda.

Tim plays an eclectic mix of time-worn tunes from Joplin to Jolson, Louis Armstrong to Glenn Miller, with ragtime, honky-tonk, boogie and blues all figured into his set lists. For the time being, Tim is focusing on music, performing in Southern California's Inland Empire. He has two CDs: Re-keyed and Dust & Ivory.
Ray Skjelbred
Ray Skjelbred has been a featured piano soloist in concerts and festivals for many years. He has appeared at the West Coast Ragtime Festival, Breda Jazz Festival in Holland, the America's Finest City Festival in San Diego, the Edinburgh Festival in Scotland and many others. He has also led his own groups (Ray Skjelbred Quartet, the Great Excelsior Jazz Band, Berkeley Rhythm, the Yeti Chasers, and the Cubs) and has played and recorded with most of the leading traditional jazz musicians of the past few decades.

He currently works most often with the Yeti Chasers in Seattle, Ray Skjelbred and his Cubs, and the Bob Schulz Frisco Jazz Band. Ray has been a chosen accompanist for jazz and blues singers such as Barbara Dane, Barbara Lashley, Rebecca Kilgore, Claire Austin, Pat Yankee, Carol Leigh and the legendary Victoria Spivey.

His piano work appears on the Triangle/Rhythm Master, Solo Art, Arcola, Pianomania, Euphonic, Stomp Off, Jazzology, Berkeley Rhythm and Orangapoid labels. Ray usually performs an eclectic mix of early jazz standards, blues, barrelhouse, classic ragtime, unexpected pop tunes and original compositions.
Squeek Steele

Born and raised in eastern Kentucky, Squeek Steele began playing the piano by ear at the age of 3. Other than piano recitals, her first real public playing came at age 12 when she played gospel songs for an old-time revival. Squeek has an Bachelor of Music degree from Oberlin Conservatory, and holds a Master's Degree in Music from Catholic University of America.

As pianist, organist, composer and teacher, Squeek has performed internationally in Europe and Southeast Asia as well as across the United States. She holds a Guinness World Record for most pieces of music played on piano from memory. She plays all styles and genres of music, and during the summer/fall season performs at the Bucket of Blood Saloon in Virginia City, Nevada. Two of her covers of old west songs were used in a film with Natalie Portman and Ewan McGregor, released in 2016.

This weekend she will be joined by Reno vocalist Megan McKenna for several sets. Squeek dedicates her performances at the festival this year to the memory of her longtime friend and musician partner, "Washboard Kitty" Wilson.
Monty Suffern

Monty Suffern has played in many parts of the U.S. at various ragtime festivals over the past 10 years after having "stumbled upon" the Scott Joplin ragtime festival in Sedalia, Missouri. Originally from Australia, he now resides in Texas with his wife Suzi and their five dogs. Since retiring from a 40-year career in academia where he taught Chemical Engineering and Aviation Sciences, these days he has time to concentrate more on his love of old-time piano playing. Although taking a back seat to the need to earn a living, music has always played an important role in Monty's life with piano lessons starting at the age of 7, and hardly a day has passed since then without him seated at the piano. His playing style is best described as "rollicking" as he tries to use as many of the notes as he can fit into two hands, and ranges over the entire keyboard. He mainly plays ragtime and stride piano, although he may just surprise audiences with a song or two from other genres, or perhaps one or two of his own ragtime compositions.

Monty's other major interest is in aviation and he has held a private pilot license for 25 years. He is currently building an airplane which is getting closer to the finished product. Who knows — in future years he may be able to combine his two main interests by flying himself to festivals around the country in an aircraft he constructed himself.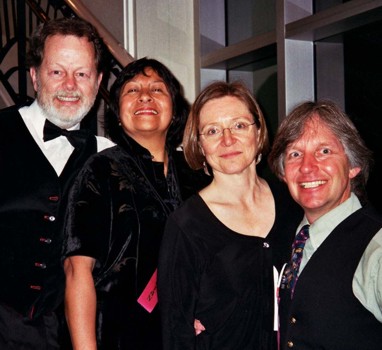 The Sullivans and Drivons

The Sullivans offer an array of contemporary and classic rags, including Latin tangos and waltzes, plus ragtime and novelty songs. Among the pillars of the Sacramento and West Coast Ragtime Societies, the Sullivans have been part of the ragtime scene for many years. They have enjoyed performing at various festivals, concerts, and special events — from Santa Nella to China for Shanghai television.

A Sacramento native, Petra Sullivan has a degree in Music and teaches violin and piano. Bub Sullivan studied classical piano as a child, then later took up string instruments before discovering ragtime as a student in St. Louis.

The Sullivans are pictured here with the Drivons with whom they often play together.
Virginia Tichenor
Virginia Tichenor has been consumed by ragtime her entire life. She is the daughter of the late Trebor Tichenor, the noted ragtime scholar, pianist, collector and founder of the St. Louis Ragtimers. She studied music at the St. Louis Community Association for the Arts and took advanced training from concert pianist, John Phillips. Always at the crossroads of the ragtime revival, her parental home houses the world's largest library of ragtime sheet music and piano rolls. Virginia grew up with legends like Eubie Blake, Max Morath and Butch Thompson chatting in her own living room. Her father is advisor-confidant for most of the ragtime community, so Virginia often heard new rags when they were forming in the minds of their composers. The topic of her college research project? The ragtime revival, of course! In 1998, Virginia released her first solo recording, a CD entitled "Virginia's Favorites". It included four two-piano duets with her father, Trebor. It was so popular, the family released two other CDs, "The Tichenor Trio" which included Virginia's father and her multi-talented husband, Marty Eggers, and "Ragtime Reunion - Tichenor Family Five" which featured Virginia, her dad, her husband, her brother, and her sister-in-law. She is the Vice President, and past President, of the West Coast Ragtime Society.
Ryan Wishner
Ryan Wishner began playing piano at the age of 10, and was immediately drawn toward ragtime. He now plays a wider variety of music ranging from the mid-1800s through the 1930s. Ryan also collects sheet music, piano rolls, records and other antiques from the era. His playing style is based on these records and rolls, which often have added "tricks" not printed in the original sheet music. He is currently studying Mechanical Engineering at the University of California at Riverside.